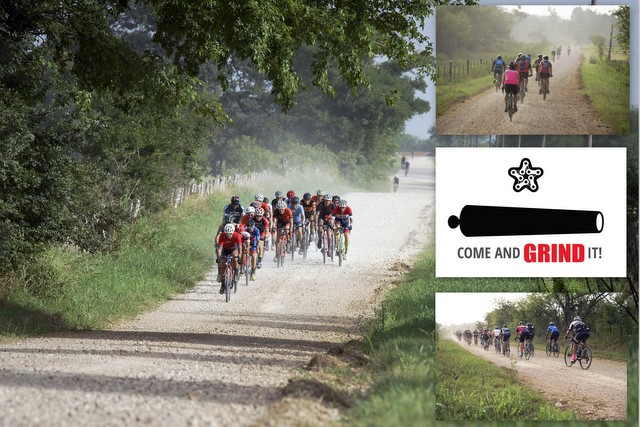 Come And Grind It - Leesville, TX - March 10th, 2018
Sutherland Springs Benefit Gravel Ride
Sunday, November 26th 2017
Thanks to everyone that came out to support us for this great gravel grinder ride! With your help, we raised just over $7,500 that went to the Spirit of Giving Fund set up by HEB Grocery, directly benefiting the families impacted by the Sutherland Spring shooting tragedy. Three great distances to choose from: 15, 33 and 68 miles on fully marked/signed beautiful, primarily gravel roads. This course will be returning in 2018 as the Stockdale Gravel Roundup!
This official Grand Prix of Texas Cyclocross event at Richard Moya Park didn't disappoint and the new finale headliner event Lucha Libre Single Speed Championships was a real crowd pleaser.
See USA Cycling Results
This South By Cyclocross Series (SXCS) event was back with its crusher power hill, long grassy false flats, along with technical and sand sections at Webberville Park. The re-match of the Lucha Libre Single Speed race at on Saturday had some new challengers and winners!
See USA Cycling Results
Oh, there will be more gravel for sure. On July 1st 2017, Capital City Racing put on its first gravel ride/race in Leesville, Texas. Look for more events to come from Capital City Racing in the gravel!
Visit our Facebook page to see more details on our past events.  https://www.facebook.com/capitalcityracingtexas/
YouTube Crash video from Long Shot race
Lucha Libre Single Speed Championships
NOVEMBER 4th, 2017 SATURDAY - AUSTIN, TEXAS
Richard Moya Park  .. something new!
The Mellow Johnny's Cross of Ages race brought the lucha libre flavor and mayhem to a special single speed cyclocross and mountain bike category. This race/ride was an open, no racing licenses required class. Shirtless men and women with bikini tops were called up to the front of the start line by their official luchador names.
Look for the final event photos to come soon!
Here were the unofficial rules: please don't ruin the course tape or cut the course tape, no lucha libre capes while riding (choking hazard), helmets are required. No motorized bicycles. No backbrakers, brainbusters, chokeslams, facebusters, neckbreakers, piledrivers, diving bulldogs, diving clotheslines, moonstar or frankensteiner moves are allowed.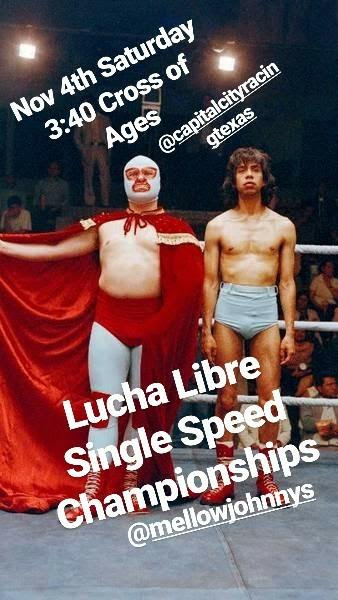 Next Steps...
Brett Kinsey of Capital City Racing Texas would like to tell you that he's got a new website that is under construction and please don't send him any feedback on Facebook until this website is done or he might freak out.